Price Action
Over the past week, Zilliqa saw its price go down by -9.25%. It is below its 20 day moving average by 8.55%, so it's somewhat away. Zilliqa's bullish momentum, determined by its distance from its 20 day moving average, is pretty far negative compared to the other coins we're covering, and thus may be due for a correction upwards or some kind of a period of low volatility. Now when considering volatility, Zilliqa is more prone to sizable price moves than 74% of coins in our index, so traders can expect a bit more volatility than usual. Looking ahead, if the upcoming week mirrors the volatility of three past three weeks, the price range for Zilliqa in US dollars is expected to be between $0.008115602 and $0.011771.
Where to trade Zilliqa (symbol: ZIL): Gate, Yobit, Stex, Binance, DDEX, ETHfinex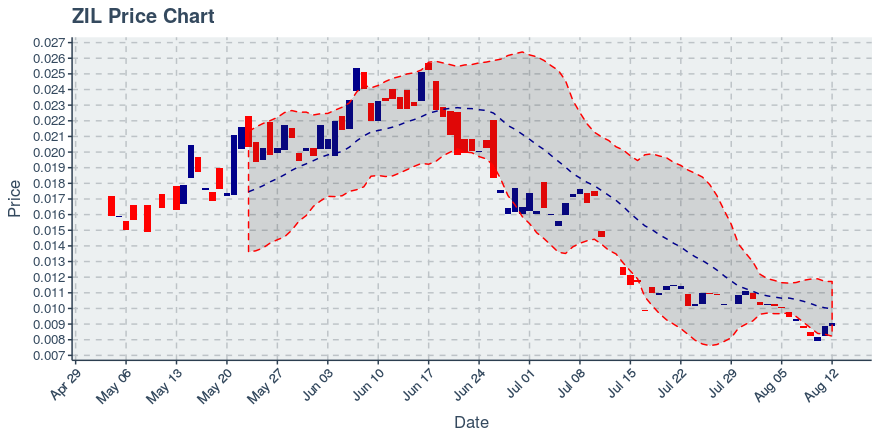 Volume Update
Over the past week, Zilliqa saw its daily volume range between 47,756,618 and 217,947,816 units of its own currency. In the three weeks prior, volume has steadily risen, but price has been declining. The past 7 days saw Zilliqa's trading turnover — meaning the percentage of its available supply that was traded — come in at 1.86%. This turnover rate is higher than approximately 65.93% of the cryptocurrencies we monitor, which means it's above average and thus will have enough liquidity for many investors/traders.
Engagement Update
Zilliqa saw the number of wallets holding its coin go from 33,971 to 33,926 over the past week — a change of -0.13%. As for overall transactions, they increased from 419,199 to 419,396 — an increase of 0.05%. This translates to a combined engagement growth rate of -0.08% for Zilliqa — which is higher than 5.07% of the cryptocurrencies we're reporting on. One interpretation of this may be that the coin's usage is not growing much at all.
Technology Development Status
At the moment, Zilliqa has 18 repositories open to the public on GitHub, with the oldest one now being 1.85 years young. Its most recent public update was within the past day, which is pretty good, as it suggests the coin is still under active and rapid technical development. Zilliqa's public repos now have 1174 which is pretty good, relatively speaking; specifically, that's more than 75 % of the top 100 coins we're looking at. The coin has 207 total outstanding issues across all 18 of its public repositories on GitHub. Its number of watchers, when viewed against its open issues count, is a bit below average, and thus potentially concerning. We view the ratio of open issues on Zilliqa's GitHub repos relative to the number of developers who follow its repos as a way to quantitatively assess the health of a coin's software development processes, and for Zilliqa we see that it fares better than only 34% of the coins we group Zilliqa in.
Zilliqa News and Commentary
Over the past week, we found one link about Zilliqa that we thought was particularly interesting. If possible we included a brief excerpt from the article — be sure to click through for the entire piece.
A Scilla vs Move case study – Anton Trunov
Article by SixJupiter