Price Action
Since last week, Theta's price went down by -5.1%. It is below its 20 day moving average by 5.16%, so it's somewhat away. Theta's bullish momentum, if assessed by its distance from its 20 day moving average, is pretty far negative compared to the other coins we're covering, and thus may be due for a correction upwards or some kind of a period of low volatility. Now when considering volatility, Theta is more prone to sizable price moves than 39% of coins in our index, so it's notably less volatile than the other cryptocurrencies we're monitoring. Looking ahead, if the upcoming week mirrors the volatility of three past three weeks, the price range for Theta in US dollars is expected to be between $0.1002805 and $0.1196695.
Where to trade Theta (symbol: THETA): Gate, Yobit, Stex, Binance, DDEX, ETHfinex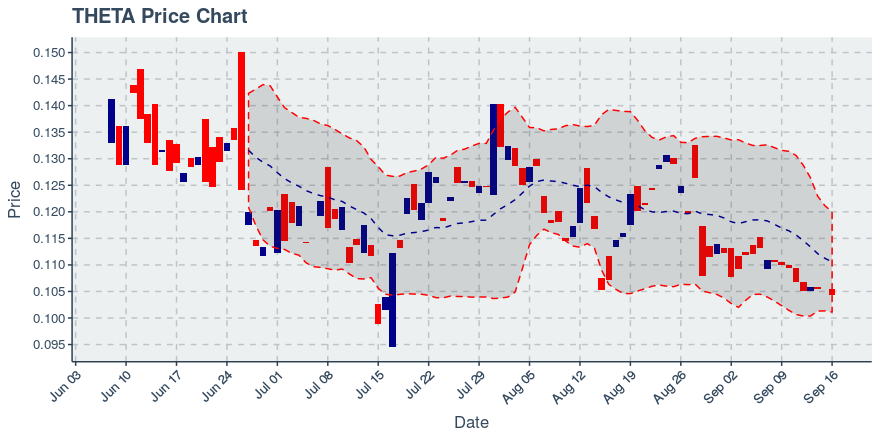 Volume Update
In the week prior, the daily volume for THETA has ranged between 124,165 and 4,077,604 currency units. In the three weeks prior, the trend in volume does not have a clear direction, while the price trend is clearly down. THETA experienced a turnover rate of about 0.27% over the past week, which means that is the percent of its available money supply that is traded daily. Its trading turnover percentage is higher than about 33.72% of the coins we're tracking, so it's below average, and so there may be some risk that traders/investors have difficulty in getting in and out of positions.
Technology Development Status
THETA currently has 9 public repositories on GitHub, with the oldest one now 1.79 years young. Its most recent public update was within the past week which is not bad, as the coin is still being updated routinely. THETA's public repos now have 180 which is below average relative to its peers; that's more than only 36 % of the 100 similar coins in our index. The coin has 18 issues reported across its public repositories. Relative to the number of watchers it has, though, its open issues count is fairly mediocre. We consider the GitHub open issue/watcher ratio as a potential indicator of the healthiness of a coin's software development process, and for THETA we see that its issue/watcher ratio looks healthier than 55% of similar coins in our index.
THETA News and Commentary
We found one link over the past week about THETA that we thought was especially worth sharing. If possible we included a brief excerpt from the article — be sure to click through for the entire piece.
Theta: Live Network Stats with 730 Pre-Guardian Nodes and 8 Enterprise Validators, Tim Li and the Theta Korea team at Upbit Developer Co
Snippet:
Tim was presenting on "Theta Network: Decentralized Data Delivery for Video, Media Contents, and Beyond"….For more information on Theta Guardian Nodes and how to join, see the announcement blog.As for the social side, Tim Li and the Theta Korea team were featured at Upbit Developer Conference 2019 in Incheon, Korea on September 4th-5th….Interested devs should submit their applications by September 30th.Theta community continues to grow….There is a constant slight grows in the number of token holders and subscribers of Theta social media channels….There is a slight growth in Theta community over time.
Article by SixJupiter