Price Action
In the week prior, the price for Theta went up by 15.84%. It is above its 20 day moving average by 14.01%, so it's a bit of a ways off. Theta's bullish momentum, determined by its distance from its 20 day moving average, is above average relative to our index of cryptocurrencies. In terms of volatility, Theta exhibits greater price volatility than approximately 43% of coins in our index, so it's volatilty is about what you'd expect for a cryptocurrency in our index. Based on volatility over the past three weeks, we can expect Theta to experience a price range in US dollars between 0.08221794 and $0.1153161.
Where to trade Theta (symbol: THETA): Gate, Yobit, Stex, Binance, DDEX, ETHfinex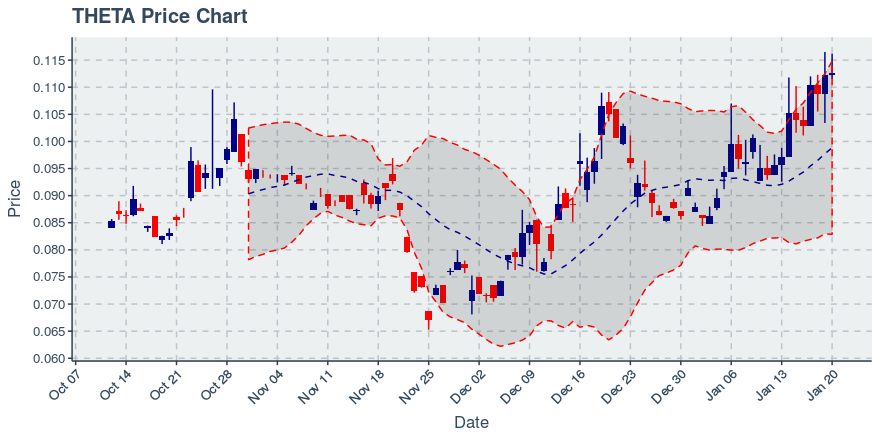 Volume Update
In the span of the preceding 7 days, THETA's daily volume, in terms of its own unit of currency, has fluctuated between 3,574,979 and 12,858,571. In the three weeks prior, the trend in both volume and price have clearly been up. The past 7 days saw THETA's trading turnover — meaning the percentage of its available supply that was traded — come in at 1.01%. Its turnover rate is more than approximately 48.35% of the cryptocurrencies in our index, so it's middle-of-the-pack; investors/traders may thus wish to consider their liquidity requirements to make sure the coin matches their needs and their expected trading volume.
Technology Development Status
At the moment, THETA has 11 repositories open to the public on GitHub, with the oldest one now being 2.14 years young. Its most recent public update was within the past week which is not bad, as the coin is still being updated routinely. THETA's public repositories collectively have a total of 186 watchers, which is below average relative to its peers; that's more than only 35 % of the 100 similar coins in our index. The coin has 26 outstanding issues in the backlog awaiting to be addressed by the core development team. Relative to the number of watchers it has, though, its open issues count is fairly mediocre. We consider the GitHub open issue/watcher ratio as a potential indicator of the healthiness of a coin's software development process, and for THETA we see that its issue/watcher ratio looks healthier than 41% of similar coins in our index.
THETA News and Commentary
Over the past week, we found one link about THETA that we thought was particularly interesting. If available, we added an excerpt from the article to help give a taste of what it is about.
Theta Network: Testing of the first 100 GN on testnet has been a success, Validator nodes including Blockchain and gumi Cryptos Capital have completed a major network upgrade, SLIVER.tv officially renamed
Excerpt:
In addition to the nodes run by Theta Labs, earlier this year Blockchain Ventures launched their validator node on the Theta blockchain, and a few days ago the team announced the next enterprise validator node: gumi Cryptos Inc — the blockchain/crypto venture fund launched by gumi Inc., a leading global mobile game publisher, and developer….The team will continue testing in the lead up to Theta Mainnet 2.0 in March.Theta followers, you can check out the distribution of Pre-Guardian Nodes, Edge Cachers, and Enterprise Validator Nodes in real-time at Theta website!…Theta validator nodes including Blockchain and gumi Cryptos Capital have successfully completed a major network upgrade on January 15th, 2020 as of block 4164982!…There are several more enterprise validators on the way, including a global 100 tech company that has already launched their validator node on Theta Network….Another important aspect is decentralizing the Validator Nodes — the core nodes of the Theta protocol that propose and produce new blocks in the Theta blockchain….These weeks, validator nodes including Blockchain and gumi Cryptos Capital have successfully completed a major network upgrade, which was supported by Binance.
Article by SixJupiter