Price Action
Over the past week, Status Network Token saw its price go down by -2.93%. It is below its 20 day moving average by 8.24%, so it's somewhat away. Status Network Token's bullish momentum, based on its distance from its 20 day moving average, is pretty far negative compared to the other coins we're covering, and thus may be due for a correction upwards or some kind of a period of low volatility. In terms of volatility, Status Network Token exhibits greater price volatility than approximately 63% of coins in our index, so traders can expect a bit more volatility than usual. Based on volatility over the past three weeks, we can expect Status Network Token to experience a price range in US dollars between 0.01360325 and $0.01959175.
Where to trade Status Network Token (symbol: SNT): Gate, Yobit, Stex, Binance, DDEX, ETHfinex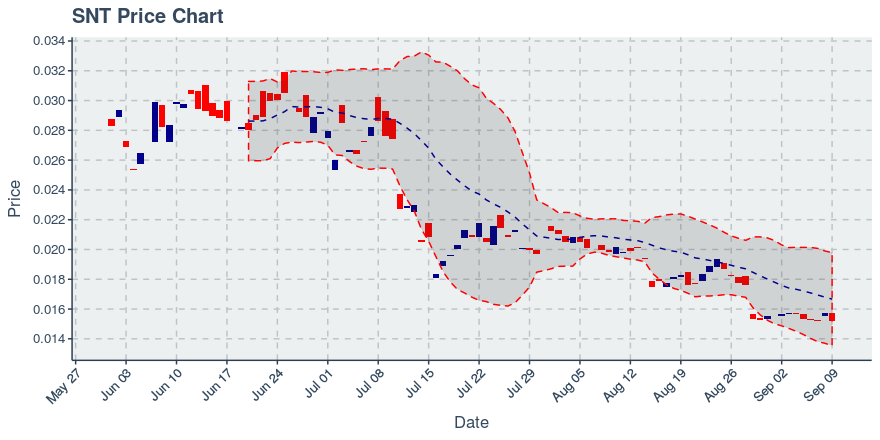 Volume Update
In the week prior, the daily volume for Status has ranged between 1,899,907 and 10,185,585 currency units. Looking back over past 21 days, the trend in volume does not have a clear direction, while the price trend is clearly down. The past 7 days saw Status's trading turnover — meaning the percentage of its available supply that was traded — come in at 0.21%. Its turnover rate is more than approximately 21.43% of the cryptocurrencies in our index, so it's below average, and so there may be some risk that traders/investors have difficulty in getting in and out of positions.
Engagement Update
Status Network Token saw the number of wallets holding its coin go from 68,894 to 68,969 over the past week — a change of 0.11%. As for overall transactions, they increased from 738,312 to 739,530 — an increase of 0.16%. Status Network Token's combined growth rate — meaning the sum of its growth rate in holders and transactions — is 0.27% which puts it ahead of 65.48% of the coins in our index. This could indicate that the coin's engagement is growing at an above average rate.
Technology Development Status
At the moment, Status has 30 repositories open to the public on GitHub, with the oldest one now being 2.36 years young. The last recorded update to its public repositories was within the past week which is not bad, as the coin is still being updated routinely. Status's repos that are visible to the public collectively have 263 watchers — that's more than approximately 40 % of coins in its index. The coin has 65 total outstanding issues across all 30 of its public repositories on GitHub. Relative to the number of watchers it has, though, its open issues count is a bit below average, and thus potentially concerning. We view the ratio of open issues on Status's GitHub repos relative to the number of developers who follow its repos as a way to quantitatively assess the health of a coin's software development processes, and for Status we see that it fares better than only 26% of the coins we group Status in.
Status News and Commentary
We found one link over the past week about Status that we thought was especially worth sharing. If possible we included a brief excerpt from the article — be sure to click through for the entire piece.
Happy Anniversary – Hattie J. Sheets
Excerpt:
Family, friends, and if all goes well it is possible that we end up attending the weddings of our children and even our grandchildren, although for the moment we stay with those of friends and close family….So that does not happen, now you will be able to see some dedications, so if you are going to go to a wedding you should learn one or more to choose the one that you think is best at that time and at that wedding.
Article by SixJupiter