Bitcoin: What's the Latest Regarding its Price?
At the time of this writing, Bitcoin's price is $10,491.96 US dollars, up approximately 1.77% from the day prior. Yesterday's up day is a reversal of the day before it. In terms of trend, though, note that the current price is now 3.44% above its 20 day moving average, and is currently in an unclear trend over the past 14 days. Alternatively, for those interested in trading ranges that Bitcoin bounces between, its current two week trading range in US dollars is between $9,337.87 and $10,948.33. Its market capitalization currently is estimated to be around $188.64 billion US dollars, while it's market dominance (percent of total crypto market) is estimated to be 69.93%. It should be noted, though, that Bitcoin's dominance has been gradually moving up, reporting an average daily rise of 0.28% over the past 14 days. A rise in dominance may suggest the case for altcoins is getting weaker, and that Bitcoin's chances for long-term survival are thus enhanced.
Want to trade Bitcoin? Consider the following brokers: Gate, Yobit, Stex, Binance, DDEX, WCX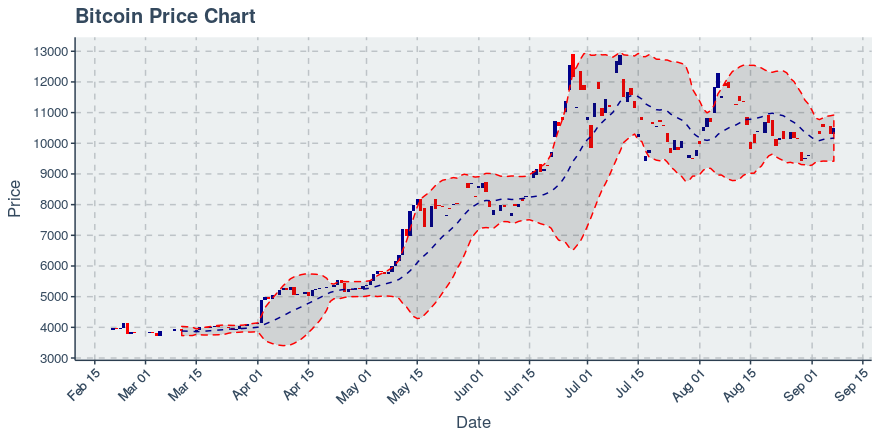 Straight Off the Chain
314,429 transactions were recorded on the Bitcoin blockchain yesterday. The trend in daily transactions is not clear, though it should be noted that transactions have risen by about 1.21% over the past week. Bitcoin may end up functioning as a way to acquire goods or services if it does regularly increase the number of daily transactions occurring on its chain. In terms of transaction fees, the average cost for sending Bitcoin yesterday ended up being approximately $0.88 US dollars. Transaction fees have been rising by approximately 7.9% per week, while the average transaction size is up 23.02% in US dollars. Ultimately, we might conclude that Bitcoin is well-suited for high value transactions, because the rise in fees is coupled with roughly in the same ballpark growth in transaction fees relative to transaction size. Last but certainly not least, Bitcoin's hash rate continues to trend upwards on a 30 day basis, growing about 0.48% per day. Given the upwards trend in bitcoin mining, it may be that hash rate is getting more intensive; this could result in the chain's security improving. As such, this might enable Bitcoin to attract more high value transactions.
What are the Richest Hodlers Doing?
Over the past 30 days, 2.45% of the 565.36 million Bitcoin wallets holding a balance reported a transaction. The number of monthly active users is in a downtrend, stepping about 16,422.31 per day over the past two weeks. Over 90.49% of the outstanding Bitcoin is held by the top 1% of Bitcoin wallets.
Article by SixJupiter