Bitcoin Price Update
Bitcoin is up about 3.66% from the previous day, putting its price at $10,428.96 US dollars at the time of this writing. The past 24 hours mark a reversal in price from the day prior. It should be noted, though, that price is still in an up trend, and is currently 2.72% above its 20 day moving average; staying above this level may be critical to sustain short-term momentum. On the other hand, if you are a rangebound trader seeking a range for Bitcoin to bounce between, you might find a lower boundary at $9,341.91 USD and an upper boundary at $10,963.14 USD. Its market capitalization currently is estimated to be around $185.02 billion US dollars, while it's market dominance (percent of total crypto market) is estimated to be 69.98%. Bitcoin's dominance level has been without a clear trend over the past two weeks, fluctuating between 68.63% and 70.84%. Without a clear trend in dominance, the jury is still up for grabs as to whether or not Bitcoin will be the only cryptocurrency that succeeds.
Want to trade Bitcoin? Consider the following brokers: Gate, Yobit, Stex, Binance, DDEX, WCX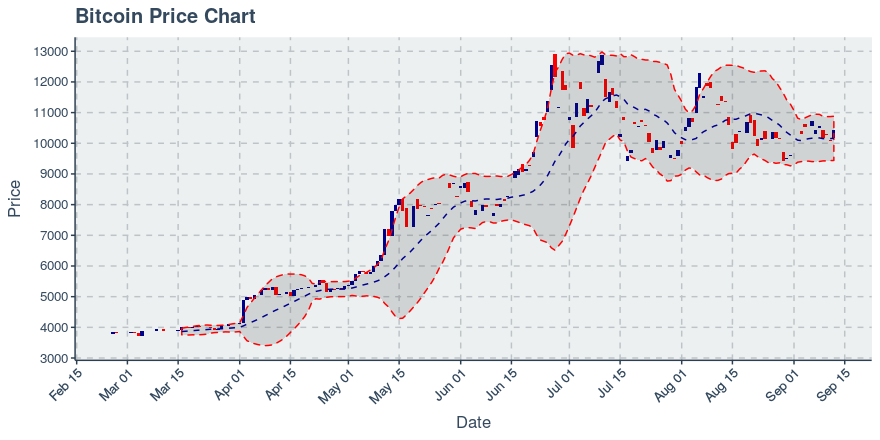 Straight Off the Chain
Yesterday, the Bitcoin blockchain saw 335,868 transactions recorded on it. Regarding growth in actual usage of the blockchain for transactions, observe that over the past 7 days daily transactions have fallen by about 2.24%, though it should be noted this past week the trend should be described as not clear — at least on a two-week basis. Ultimately, if the currency does not succeed in growing transactions on its chain, its primary utility may be as a money to protect against political turmoil. Yesterday, Bitcoin's average fee per transaction came in at $1.03. Transaction fees have been increasing by approximately 10.38% per week, while the average transaction size is up 38.02% in US dollars. It should be noted that the rise in fees could mean the currency is usable for a growing number of use cases, as growth in transaction sizes is substantially faster relative to growth in transaction fees. Last but certainly not least, Bitcoin's hash rate continues to trend upwards on a 30 day basis, growing about 0.79% per day. Ultimately, the security of Bitcoin is improving, because the hash rate trend is upwards — which implies the trend in mining strength is now more competitive. From this perspective, this behavior may provide Bitcoin with the ability to earn greater trust from developers and investors alike.
How Active are Bitcoin's Richest Wallets?
2.46% of the 567.22 million Bitcoin wallets holding a positive balance have transacted within the past 30 days. It should be noted that over the past two weeks, the number of monthly active users of Bitcoin has been dropping by about 21,326.52 per day. In terms of ownership concentration, approximately 90.46% of the outstanding Bitcoin is owned by just 1% of the wallets with a positive balance.
Article by SixJupiter