Bitcoin Price Update
Bitcoin is down about 1.02% from the previous day, putting its price at $10,314.88 US dollars at the time of this writing. This marks the 3rd day in a row that Bitcoin has been down, but the coin is trending up. As price is currently close above its 20 day average price of $10,134.17, we may interpret that to mean staying above the 20 day moving average may be important in terms of sustaining short-term momentum. On the flip side, for those who prefer a rangebound view when trading, Bitcoin's trading range — based on its momentum and volatility over the past two weeks — is between $9,249.02 and $11,019.31 (in US dollars). Its market capitalization currently is estimated to be around $183.65 billion US dollars, while it's market dominance (percent of total crypto market) is estimated to be 69.35%. Bitcoin's dominance has been trending up slightly, averaging a rise of 0.19% each day over the past two weeks. A rise in dominance may suggest the network effects surrounding Bitcoin are getting stronger, and that Bitcoin's chances for long-term survival are thus enhanced.
Want to trade Bitcoin? Consider the following brokers: Gate, Yobit, Stex, Binance, DDEX, WCX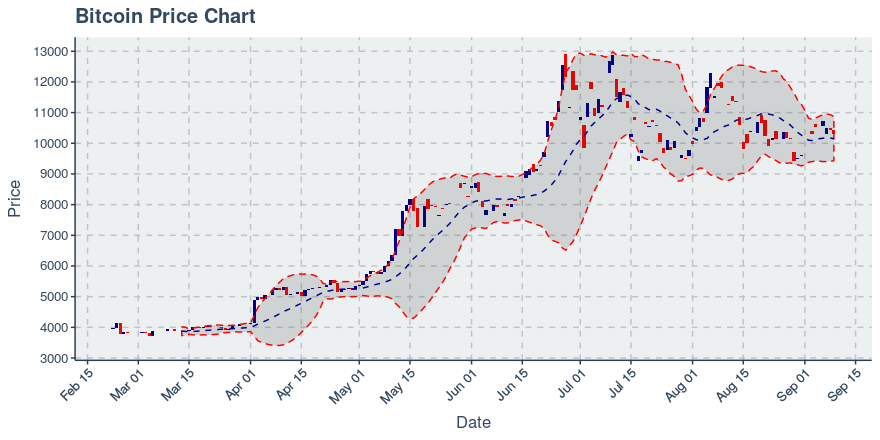 Daily Engagement and Hash Rate Metrics Update
Yesterday, the Bitcoin blockchain saw 316,852 transactions recorded on it. Daily transactions recorded on the Bitcoin blockchain risen by approximately 0.65% this past week, though it should be noted the trend is not clear at this time. Ultimately, if the currency does repeatedly succeed in growing transactions on its chain, its primary utility may be as a currency for transactions. In terms of transaction fees, the average cost for sending Bitcoin yesterday ended up being approximately $1.06 US dollars. The average transaction fee has been growing at a rate of about 17.8% per week, but the average amount of money sent in transactions, in US dollars, is up 33.14% week over week. In other words, transaction sizes are growing roughly in the same ballpark than transaction fees are, so the rise in fees may not be a problem; Bitcoin may be well-suited for high value transactions. Regarding Bitcoin's hash rate, which serves as a measure of the network's computational power, it has managed to trend upwards over the past 30 days. It has been growing daily by a rate of approximately 0.6%. A trend in hash rate that is upwards suggests that mining is becoming more competitive, and that the chain is thus improving. From this perspective, this behavior may provide Bitcoin with the ability to attract more high value transactions.
Bitcoin's Wealth Concentration and Activity
There are 566.01 million Bitcoin wallets with at least some positive amount of Bitcoin, but only 2.44% of those wallets have received or sent Bitcoin in the past 30 days. It should be noted that over the past two weeks, the number of monthly active users of Bitcoin has been heading by about 29,367.04 per day. The top 1% of Bitcoin wallets hold over 90.37% of the outstanding Bitcoin.
Article by SixJupiter