How Did Bitcoin's Price Fare Yesterday?
Bitcoin is down about 0.73% from the previous day, putting its price at $9,550.6 US dollars at the time of this writing. Yesterday's down day is a reversal of the day before it. In terms of trend, though, note that the current price is now 14.39% above its 20 day moving average, and is currently in an unclear trend over the past 14 days. On the other hand, if you are a rangebound trader seeking a range for Bitcoin to bounce between, you might find a lower boundary at $7,159.5 USD and an upper boundary at $9,538.28 USD. In terms of its overall importance in the cryptocurrency market, Bitcoin's current market capitalization is $172.57 billion US dollars, which is about 67.82% of the market capitalization of all cryptocurrencies. Bitcoin's dominance has been trending up gradually, averaging a upward move of 0.15% each day over the past two weeks. A upward move in dominance may suggest the case for altcoins is getting weaker, and thus participants of all kinds — investors, merchants, application developers — may flock to Bitcoin in increasing numbers.
Want to trade Bitcoin? Consider the following brokers: Gate, Yobit, Stex, Binance, DDEX, WCX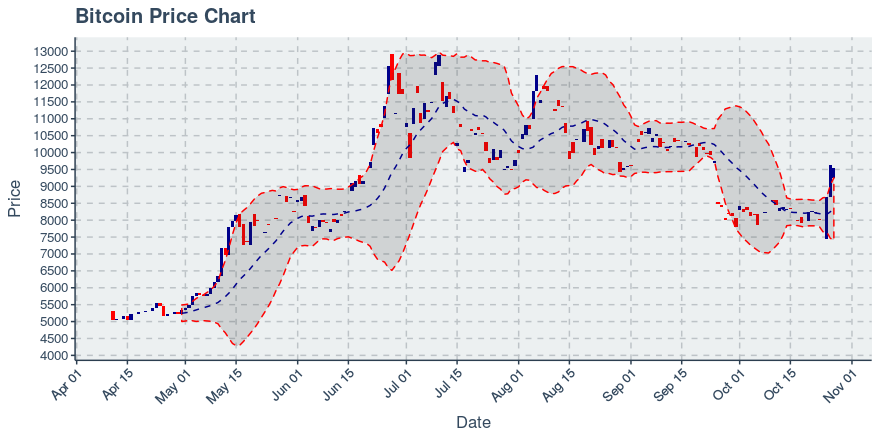 Straight Off the Chain
256,253 transactions were recorded on the Bitcoin blockchain yesterday. Regarding growth in actual usage of the blockchain for transactions, observe that over the past 7 days daily transactions have declined by about 0.61%, though it should be noted this past week the trend should be described as not clear — at least on a two-week basis. If Bitcoin does not grow transactions, it may need to derive its value as a money to protect against political turmoil. Yesterday, Bitcoin's average fee per transaction came in at $1.45. The average transaction fee has been increasing at a rate of about 25.22% per week, but the average amount of money sent in transactions, in US dollars, is up 19.87% week over week. In terms of how much computing power Bitcoin is using, over the past 30 days its hash rate has continued to bounce around , ultimately growing daily by approximately 0.18%. Ultimately, the security of Bitcoin is being a point to bear in mind, because the hash rate trend is unclear — which implies the trend in mining strength is now more uncertain in a way. From this perspective, this behavior may not provide Bitcoin with the ability to earn greater trust from developers and investors alike.
Article by SixJupiter