Bitcoin: What's the Latest Regarding its Price?
At the time of this writing, Bitcoin's price is $9,233.35 US dollars, up approximately 0.52% from the day prior. The up day for Bitcoin yesterday was a reversal from the day before it. Price now stands at 6.14% above its 20 day moving average, and over the past two weeks, price has been in an an up trend. On the other hand, if you are a rangebound trader seeking a range for Bitcoin to bounce between, you might find a lower boundary at $7,200.57 USD and an upper boundary at $10,197.73 USD. Its market capitalization currently is estimated to be around $169.1 billion US dollars, while it's market dominance (percent of total crypto market) is estimated to be 66.43%. As for the recent behavior, Bitcoin's dominance level hasn't exhibited a clear trend — but has fluctuated between 65.36% and 68.13%. As its dominance level doesn't have a clear direction at the moment, one could argue it isn't clear yet whether altcoins will survive — or if Bitcoin will capture the entire market and the vast majority of use cases for cryptocurrencies.
Want to trade Bitcoin? Consider the following brokers: Gate, Yobit, Stex, Binance, DDEX, WCX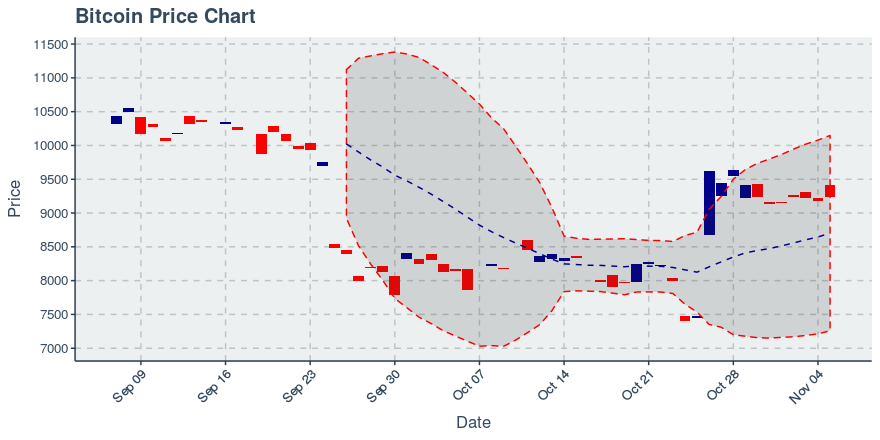 Straight Off the Chain
332,839 transactions were recorded on the Bitcoin blockchain yesterday. The trend in daily transactions is not clear, though it should be noted that transactions have dropped by about 0.67% over the past week. Ultimately, if the currency does not succeed in growing transactions on its chain, its primary utility may be as a store of wealth. In terms of transaction fees, the average cost for sending Bitcoin yesterday ended up being approximately $1.44 US dollars. The size of the typical transaction on Bitcoin's blockchain is up 15.91% in US dollars; meanwhile, the fee for sending transactions has been increasing by 12.52% per week. In other words, transaction sizes are growing roughly in the same ballpark than transaction fees are, so the rise in fees may be something to monitor; Bitcoin may be too expensive on a relative basis. In terms of how much computing power Bitcoin is using, over the past 30 days its hash rate has continued to bounce around , ultimately falling daily by approximately -0.21%. A trend in hash rate that is unclear suggests that mining is becoming harder to understand, and that the chain is thus being a point to bear in mind. This may not help Bitcoin earn greater trust from developers and investors alike.
Article by SixJupiter