How Did Bitcoin's Price Fare Yesterday?
Bitcoin's price at the moment is clocking in at $9,221.61, which means that since yesterday, it is down about 0.14%. The past 24 hours mark a reversal in price from the day prior. It should be noted, though, that price is still in an up trend, and is currently 7.18% above its 20 day moving average; staying above this level may be critical to sustain short-term momentum. On the other hand, if you are a rangebound trader seeking a range for Bitcoin to bounce between, you might find a lower boundary at $7,045.28 USD and an upper boundary at $10,162.46 USD. In terms of its overall importance in the cryptocurrency market, Bitcoin's current market capitalization is $165.11 billion US dollars, which is about 67.07% of the market capitalization of all cryptocurrencies. Bitcoin's dominance level hasn't exhibited a clear trend over the past 14 days, instead oscillating between between 65.36% and 68.13%. A dominance level without a clear trend suggests that it may still be unclear as to whether or not we will live in a world with many viable coins, or whether Bitcoin will be the "one coin to rule them all".
Want to trade Bitcoin? Consider the following brokers: Gate, Yobit, Stex, Binance, DDEX, WCX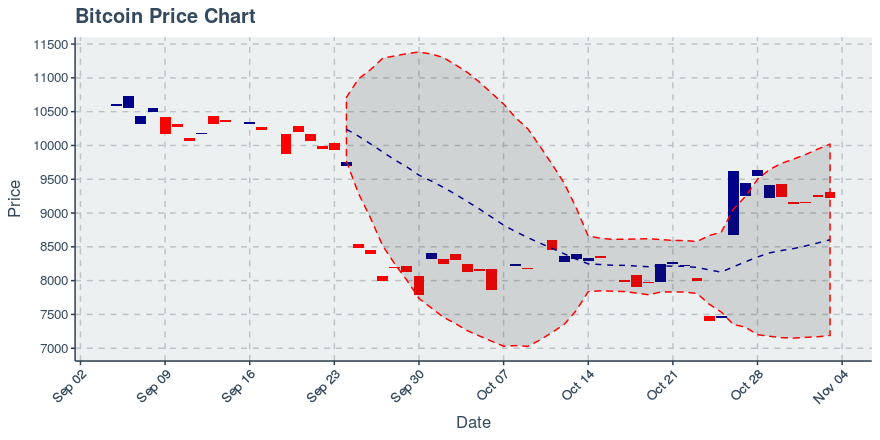 Daily Engagement and Hash Rate Metrics Update
294,367 transactions were added to the Bitcoin blockchain in the previous day. Daily transactions recorded on the Bitcoin blockchain fallen by approximately 5.21% this past week; to wit, the trend is clear at this time. If Bitcoin does not grow transactions, it may need to derive its value as a store of wealth. In terms of transaction fees, the average cost for sending Bitcoin yesterday ended up being approximately $0.9 US dollars. The average transaction fee has been growing at a rate of about 47.85% per week, but the average amount of money sent in transactions, in US dollars, is up 27.73% week over week. Last but certainly not least, Bitcoin's hash rate continues to bounce around on a 30 day basis, declining about -0.24% per day. A trend in hash rate that is unclear suggests that mining is becoming harder to understand, and that the chain is thus being something to pay attention to. As such, this might not enable Bitcoin to earn greater trust from developers and investors alike.
Article by SixJupiter