Price Action
In the week prior, the price for Maker went down by -7.09%. It is below its 20 day moving average by 4.99%, so it's slightly away. Maker's bullish momentum, based on its distance from its 20 day moving average, is roughly middle-of-the-pack relative to the cryptos we're tracking. Now when considering volatility, Maker is more prone to sizable price moves than 27% of coins in our index, so it's notably less volatile than the other cryptocurrencies we're monitoring. If volatility over the past three weeks is any indication of what's to come, we can expect Maker to bounce between 426.7343 and $529.1867 US dollars per coin.
Where to trade Maker (symbol: MKR): Gate, Yobit, Stex, Binance, DDEX, ETHfinex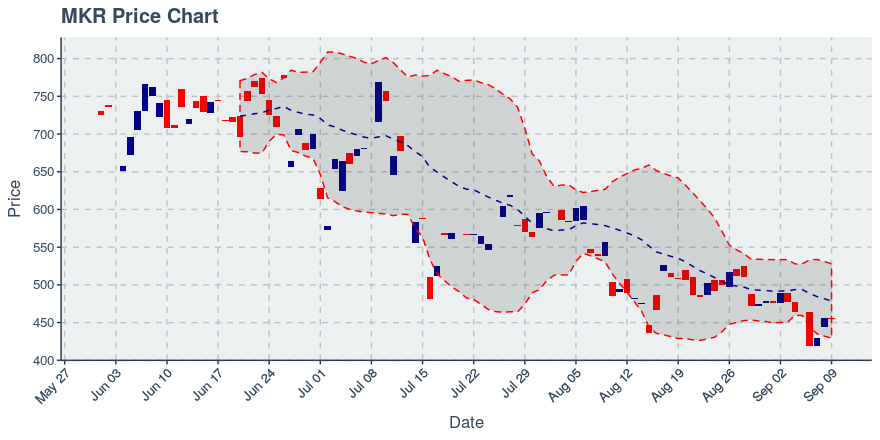 Volume Update
In the span of the preceding 7 days, Maker's daily volume, in terms of its own unit of currency, has fluctuated between 5,135.21 and 311,920.2. In the three weeks prior, the trend in volume does not have a clear direction, while the price trend is clearly down. Over the past week, Maker saw its trading turnover — which we define as average daily trading volume divided by circulating supply — register at 5.67%. Its turnover rate is more than approximately 83.33% of the cryptocurrencies in our index, so it's far above average and thus a good coin for those interested in active trading or being able to get out of the market if they need to.
Engagement Update
Over the past week, Maker saw its holders go from 14,115 to 14,214, an increase of 0.70%. As for overall transactions, they increased from 462,702 to 467,161 — an increase of 0.96%. Maker's combined growth rate — meaning the sum of its growth rate in holders and transactions — is 1.66% which puts it ahead of 85.34% of the coins in our index. This could indicate that the coin may be on track to getting and sustaining actual usage.
Technology Development Status
At the moment, Dai has 60 repositories open to the public on GitHub, with the oldest one now being 4.01 years young. Its most recent public update was within the past day, which is pretty good, as it suggests the coin is still under active and rapid technical development. Maker's public repos now have 1186 which is pretty good, relatively speaking; specifically, that's more than 67 % of the top 100 coins we're looking at. The coin has 226 total outstanding issues across all 60 of its public repositories on GitHub. In comparison to the number of watchers it has, though, its open issues count is a bit below average, and thus potentially concerning. We view the ratio of open issues on Dai's GitHub repos relative to the number of developers who follow its repos as a way to quantitatively assess the health of a coin's software development processes, and for Dai we see that it fares better than only 31% of the coins we group Dai in.
Maker News and Commentary
We found 3 links over the past week about Maker that we thought were especially worth sharing. If available, we added an excerpt from the article to help give a taste of what it is about.
Should I build an Electric Scooter? – Gardiner Allen
Unlike Desktop Computers, Desktop Fabrication Machines Are Not For C
July '19, My Makers Family – Rhys Maughan
Article by SixJupiter