How Did Bitcoin's Price Fare Yesterday?
Bitcoin is down about 0.13% from the previous day, putting its price at $8,106.56 US dollars at the time of this writing. The down day for Bitcoin yesterday was a reversal from the day before it. Price now stands at 7.34% above its 20 day moving average, and over the past two weeks, price has been in an an up trend. On the other hand, if you are a rangebound trader seeking a range for Bitcoin to bounce between, you might find a lower boundary at $6,733.79 USD and an upper boundary at $8,370.69 USD. Its market capitalization currently is estimated to be around $154.7 billion US dollars, while it's market dominance (percent of total crypto market) is estimated to be 68.34%. Bitcoin's dominance level has been without a clear trend over the past two weeks, fluctuating between 67.6% and 69.22%. A dominance level without a clear trend suggests that it may still be unclear as to whether or not we will live in a world with many viable coins, or whether Bitcoin will be the "one coin to rule them all".
Technical analysis of Bitcoin for traders, plus the best of Bitcoin Twitter. Get it daily at CFDTrading.com.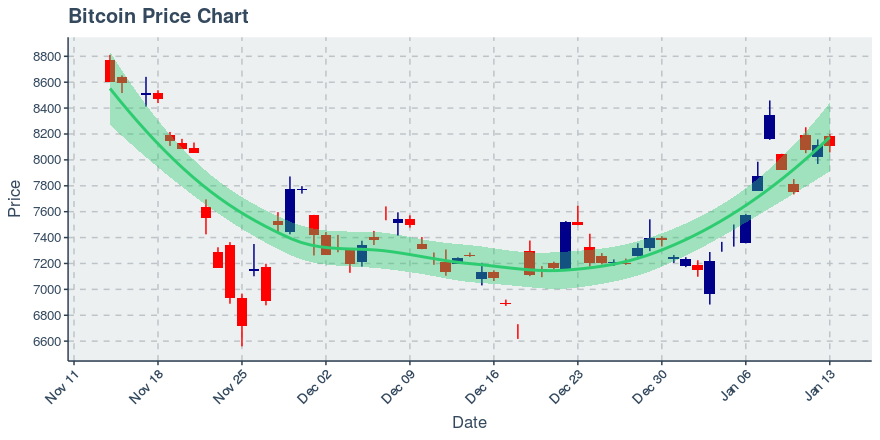 Straight Off the Chain
291,597 transactions were recorded on the Bitcoin blockchain yesterday. The trend in daily transactions is not clear, though it should be noted that transactions have grown by about 8.23% over the past week. Bitcoin may end up functioning as a currency for transactions if it does regularly increase the number of daily transactions occurring on its chain. As for Bitcoin's transaction fees, the average transaction fee yesterday was $0.48 US dollars. The size of the typical transaction on Bitcoin's blockchain is down 9.02% in US dollars; meanwhile, the fee for sending transactions has been falling by 3.97% per week. Last but certainly not least, Bitcoin's hash rate continues to trend upwards on a 30 day basis, gaining about 0.57% per day. A trend in hash rate that is upwards suggests that mining is becoming more competitive, and that the chain is thus becoming harder to break. This may help Bitcoin draw more capital to its chain.
Article by SixJupiter