Price Action
Over the past week, ICON Project saw its price go down by -6.5%. It is below its 20 day moving average by 4.77%, so it's slightly away. ICON Project's bullish momentum, determined by its distance from its 20 day moving average, is roughly middle-of-the-pack relative to the cryptos we're tracking. In terms of volatility, ICON Project exhibits greater price volatility than approximately 15% of coins in our index, so this coin might not move much — something traders and investors will certainly want to keep in mind. If volatility over the past three weeks is any indication of what's to come, we can expect ICON Project to bounce between 0.1219389 and $0.1378411 US dollars per coin.
Where to trade ICON Project (symbol: ICX): Gate, Yobit, Stex, Binance, DDEX, ETHfinex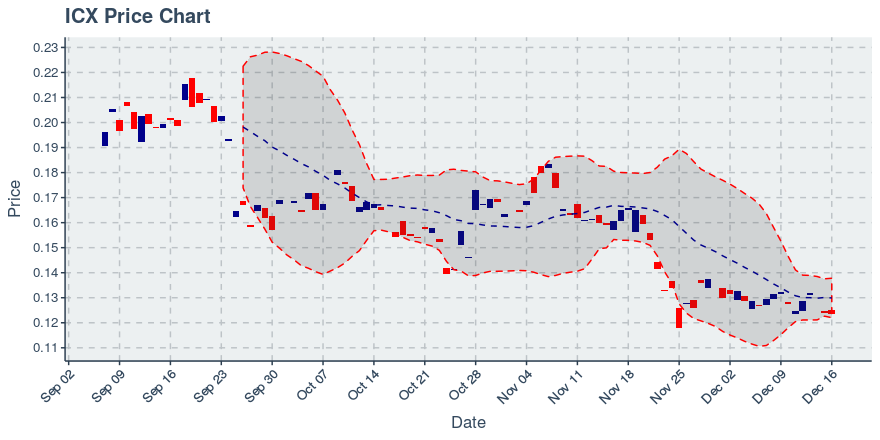 Volume Update
Over the past week, ICON saw its daily volume range between 1,470,001 and 6,320,068 units of its own currency. Over the past three weeks, the trend in volume,like the trend in price, is choppy and does not reveal a clear direction. The past 7 days saw ICON's trading turnover — meaning the percentage of its available supply that was traded — come in at 0.7%. This turnover rate is higher than approximately 65.91% of the cryptocurrencies we monitor, which means it's above average and thus will have enough liquidity for many investors/traders.
Technology Development Status
At the moment, ICON has 30 repositories open to the public on GitHub, with the oldest one now being 1.85 years young. Its most recent public update was within the past day, which is pretty good, as it suggests the coin is still under active and rapid technical development. ICON's repos that are visible to the public collectively have 434 watchers — that's more than approximately 53 % of coins in its index. The coin has 68 issues reported across its public repositories. In comparison to the number of watchers it has, though, its open issues count is a bit below average, and thus potentially concerning. We view the ratio of open issues on ICON's GitHub repos relative to the number of developers who follow its repos as a way to quantitatively assess the health of a coin's software development processes, and for ICON we see that it fares better than only 36% of the coins we group ICON in.
ICON News and Commentary
The top 3 themes being discussed about ICON in the past week are listed below. If possible we included a brief excerpt from the article — be sure to click through for the entire piece.
Everstake: ICON Roadmap for 2020 – Everstake
Key Extract:
We plan to add functionality that would allow tracking information about staking and voting activities from any account….We consider such a request from the community to be appropriate and reasonable as it fosters transparency and accountability among P-Reps who actually get rewarded for their activity….The ICON community has set a clear demand for each P-Rep to provide an individual short-term roadmap that would outline its milestones.
The Icon Kaleidoscope – Microsoft Design
Permanent Exposition at the Museum of Russian Icons i
Article by SixJupiter