Price Action
In the week prior, the price for Enjin Coin went up by 6.5%. It is below its 20 day moving average by 2.02%, so it's fairly close. Enjin Coin's bullish momentum, determined by its distance from its 20 day moving average, is above average relative to our index of cryptocurrencies. Now when considering volatility, Enjin Coin is more prone to sizable price moves than 39% of coins in our index, so it's notably less volatile than the other cryptocurrencies we're monitoring. Based on volatility over the past three weeks, we can expect Enjin Coin to experience a price range in US dollars between 0.05002961 and $0.07468839.
Where to trade Enjin Coin (symbol: ENJ): Gate, Yobit, Stex, Binance, DDEX, ETHfinex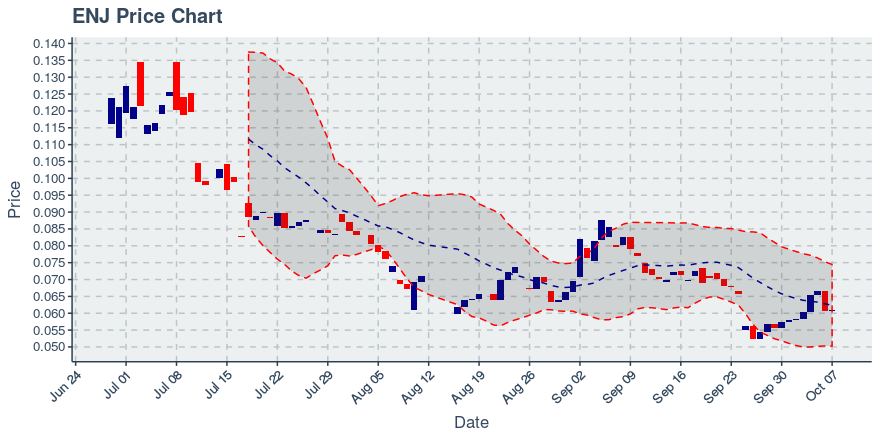 Volume Update
Over the past week, Enjin Coin saw its daily volume range between 5,390,663 and 60,176,925 units of its own currency. Looking back over past 21 days, volume has steadily risen, but price has been declining. The past 7 days saw Enjin Coin's trading turnover — meaning the percentage of its available supply that was traded — come in at 2.61%. Its trading turnover percentage is higher than about 77.91% of the coins we're tracking, so it's above average and thus will have enough liquidity for many investors/traders.
Engagement Update
Over the past week, Enjin Coin saw its holders go from 31,075 to 31,343, an increase of 0.86%. As for overall transactions, they increased from 562,276 to 570,951 — an increase of 1.54%. Enjin Coin's combined growth rate — meaning the sum of its growth rate in holders and transactions — is 2.40% which puts it ahead of 87.85% of the coins in our index. This could indicate that the coin may be on track to getting and sustaining actual usage.
Technology Development Status
At the moment, Enjin Coin has 10 repositories open to the public on GitHub, with the oldest one now being 2.12 years young. The last recorded update to its public repositories was within the past day, which is pretty good, as it suggests the coin is still under active and rapid technical development. Enjin Coin's public repositories collectively have a total of 172 watchers, which is below average relative to its peers; that's more than only 37 % of the 100 similar coins in our index. The coin has 6 total outstanding issues across all 10 of its public repositories on GitHub. In comparison to the number of watchers it has, though, its open issues count seems to be in good shape. To elaborate: the ratio of open issues to developers who are watching Enjin Coin's GitHub repos is more favorable than 73% of similar coins in our index.
Article by SixJupiter