Price Action
In the week prior, the price for Crypto.com went down by -4.85%. It is below its 20 day moving average by 5.24%, so it's slightly away. Crypto.com's bullish momentum, determined by its distance from its 20 day moving average, is roughly middle-of-the-pack relative to the cryptos we're tracking. In terms of volatility, Crypto.com exhibits greater price volatility than approximately 19% of coins in our index, so this coin might not move much — something traders and investors will certainly want to keep in mind. Based on volatility over the past three weeks, we can expect Crypto.com to experience a price range in US dollars between 3.037751 and $3.672149.
Where to trade Crypto.com (symbol: MCO): Gate, Yobit, Stex, Binance, DDEX, ETHfinex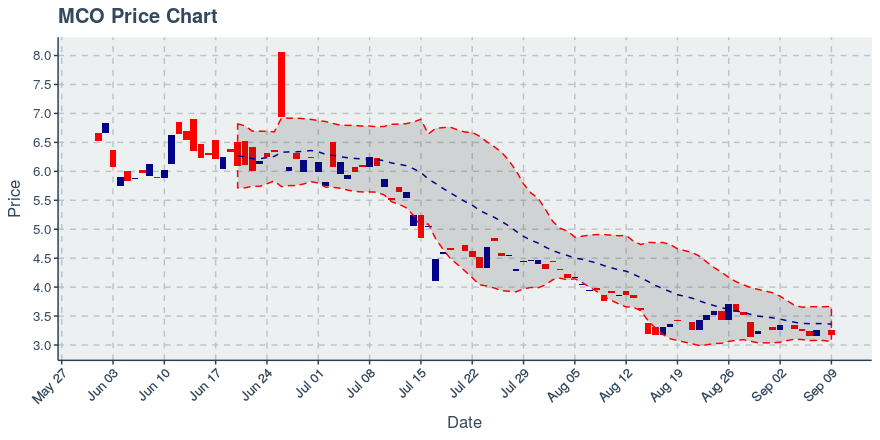 Volume Update
In the span of the preceding 7 days, Crypto.com's daily volume, in terms of its own unit of currency, has fluctuated between 309,674 and 1,537,381. Over the past three weeks, the trend in volume does not have a clear direction, while the price trend is clearly down. Over the past week, Crypto.com saw its trading turnover — which we define as average daily trading volume divided by circulating supply — register at 7.24%. This turnover rate is higher than approximately 86.9% of the cryptocurrencies we monitor, which means it's far above average and thus a good coin for those interested in active trading or being able to get out of the market if they need to.
Engagement Update
The number of wallets holding Crypto.com went from 14,656 to 14,673 in the past week, marking a change of 0.12%. As for overall transactions, they increased from 273,815 to 274,915 — an increase of 0.40%. The combined engagement growth rate (growth rate in holders plus growth rate in transfers) of Crypto.com is thus at 0.52% which, relatively speaking, is ahead of 73.29% of the cryptocurrencies we're tracking. This could indicate that the coin's engagement is growing at an above average rate.
Article by SixJupiter