Price Action
Over the past week, Chainlink saw its price go down by -9.7%. It is below its 20 day moving average by 8.43%, so it's somewhat away. Chainlink's bullish momentum, determined by its distance from its 20 day moving average, is pretty far negative compared to the other coins we're covering, and thus may be due for a correction upwards or some kind of a period of low volatility. Now when considering volatility, Chainlink is more prone to sizable price moves than 56% of coins in our index, so it's volatilty is about what you'd expect for a cryptocurrency in our index. If volatility over the past three weeks is any indication of what's to come, we can expect Chainlink to bounce between 1.540974 and $1.997126 US dollars per coin.
Where to trade Chainlink (symbol: LINK): Gate, Yobit, Stex, Binance, DDEX, ETHfinex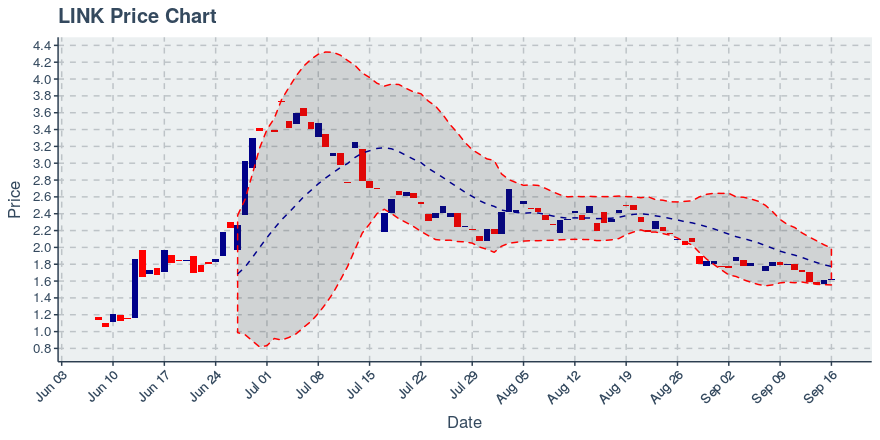 Volume Update
In the span of the preceding 7 days, Chainlink's daily volume, in terms of its own unit of currency, has fluctuated between 579,539.4 and 15,202,961. Over the past three weeks, the trend in volume does not have a clear direction, while the price trend is clearly down. Over the past week, Chainlink saw its trading turnover — which we define as average daily trading volume divided by circulating supply — register at 1.08%. Its trading turnover percentage is higher than about 61.63% of the coins we're tracking, so it's above average and thus will have enough liquidity for many investors/traders.
Engagement Update
Chainlink saw the number of wallets holding its coin go from 60,554 to 62,264 over the past week — a change of 2.82%. As for overall transactions, they increased from 668,387 to 714,953 — an increase of 6.97%. The combined engagement growth rate (growth rate in holders plus growth rate in transfers) of Chainlink is thus at 9.79% which, relatively speaking, is ahead of 95.60% of the cryptocurrencies we're tracking. This could indicate that the coin may be on track to getting and sustaining actual usage.
Technology Development Status
At the moment, Chainlink has 30 repositories open to the public on GitHub, with the oldest one now being 3 years young. Its most recent public update was within the past week which is not bad, as the coin is still being updated routinely. Chainlink's public repos now have 834 which is pretty good, relatively speaking; specifically, that's more than 64 % of the top 100 coins we're looking at. The coin has 23 total outstanding issues across all 30 of its public repositories on GitHub. In comparison to the number of watchers it has, though, its open issues count doesn't seem like something to worry about. To put the situation in context, Chainlink has a better issue/watcher ratio on its GitHub than 81% of similar coins we're tracking.
Chainlink News and Commentary
Over the past week, we found one link about Chainlink that we thought was particularly interesting. Where available, we included a snippet of the article that we thought might be interesting.
aelf to Integrate with Chainlink Oracle Network – aelf
Key Extract:
Chainlink is the first decentralized oracle solution that can provide external data to smart contracts….The integration uses Chainlink technology to build an oracle for the aelf blockchain (an oracle is a tool that feeds the on-chain smart contracts with "off-chain" data outside its native blockchain).
Article by SixJupiter