Price Action
Since last week, Basic Attention Token's price went down by -8.91%. It is below its 20 day moving average by 17.47%, so it's a bit of a ways off. Basic Attention Token's bullish momentum, if assessed by its distance from its 20 day moving average, is among the worst compared to other cryptocurrencies, and thus may indicate the coin has swung too far and too fast — and may thus be due for consolidation or a bullish correction. In terms of volatility, Basic Attention Token exhibits greater price volatility than approximately 62% of coins in our index, so traders can expect a bit more volatility than usual. Based on volatility over the past three weeks, we can expect Basic Attention Token to experience a price range in US dollars between 0.1735799 and $0.2800601.
Where to trade Basic Attention Token (symbol: BAT): Gate, Yobit, Stex, Binance, DDEX, ETHfinex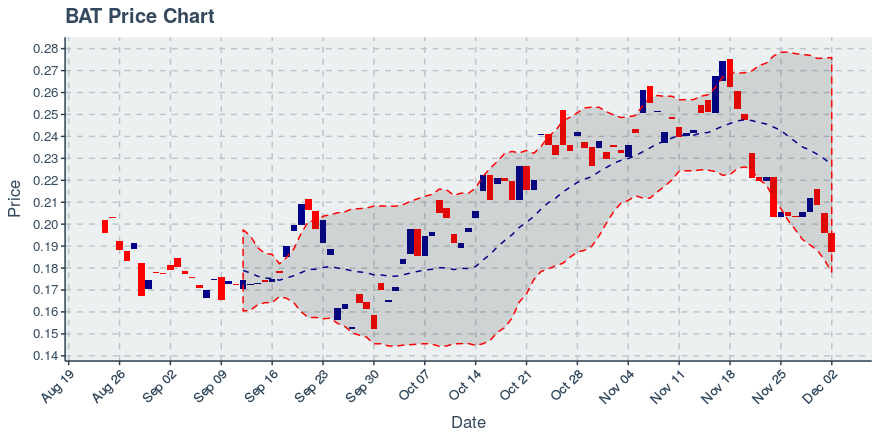 Volume Update
In the span of the preceding 7 days, Basic Attention Token's daily volume, in terms of its own unit of currency, has fluctuated between 5,505,166 and 33,777,391. In the three weeks prior, volume has steadily risen, but price has been declining. Over the past week, Basic Attention Token saw its trading turnover — which we define as average daily trading volume divided by circulating supply — register at 1.65%. Its trading turnover percentage is higher than about 65.56% of the coins we're tracking, so it's above average and thus will have enough liquidity for many investors/traders.
Engagement Update
Basic Attention Token saw the number of wallets holding its coin go from 213,852 to 215,553 over the past week — a change of 0.80%. As for overall transactions, they increased from 1,433,848 to 1,445,356 — an increase of 0.80%. Basic Attention Token's combined growth rate — meaning the sum of its growth rate in holders and transactions — is 1.60% which puts it ahead of 84.91% of the coins in our index. This could indicate that the coin may be on track to getting and sustaining actual usage.
Technology Development Status
Basic Attention Token currently has 30 public repositories on GitHub, with the oldest one now 3.14 years young. Its last public update to any of its repositories was within the past week which is not bad, as the coin is still being updated routinely. Basic Attention Token's public repos now have 265 which is below average relative to its peers; that's more than only 40 % of the 100 similar coins in our index. The coin has 148 total outstanding issues across all 30 of its public repositories on GitHub. Relative to the number of watchers it has, though, its open issues count is quite poor, and may potentially indicate some concern that the software is at risk of not being updated fast enough. Our hypothesis that the open issue/watcher ratio may be of some value in assessing the healthiness of a coin's software development process, and for Basic Attention Token, this ratio was better than a mere 9 % of the similar coins we track in our index.
Basic Attention Token News and Commentary
The top 2 themes being discussed about Basic Attention Token in the past week are listed below. Where available, we included a snippet of the article that we thought might be interesting.
Independent cryptocurrency analysis and rating agency CryptoEQ releases rating for Basic Attention Tok
Key Extract:
CryptoEQ awarded Brave with a Bronze rating.
Understanding the Brave Revolution: Why Its BAT Business Model Mak
Article by SixJupiter