Price Action
In the week prior, the price for Aurora went down by -3.78%. It is below its 20 day moving average by 11.28%, so it's somewhat away. Aurora 's bullish momentum, determined by its distance from its 20 day moving average, is roughly middle-of-the-pack relative to the cryptos we're tracking. In terms of volatility, Aurora exhibits greater price volatility than approximately 56% of coins in our index, so it's volatilty is about what you'd expect for a cryptocurrency in our index. Looking ahead, if the upcoming week mirrors the volatility of three past three weeks, the price range for Aurora in US dollars is expected to be between $0.00577401 and $0.00988049.
Where to trade Aurora (symbol: AOA): Gate, Yobit, Stex, Binance, DDEX, ETHfinex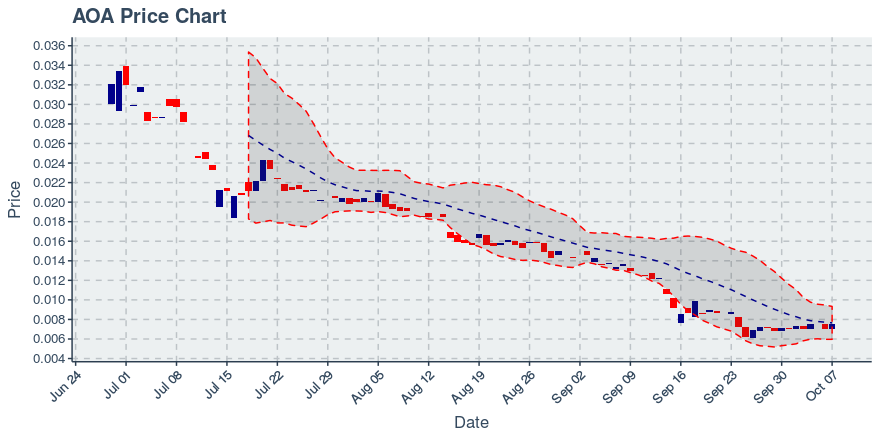 Volume Update
In the span of the preceding 7 days, Aurora's daily volume, in terms of its own unit of currency, has fluctuated between 5.0303 and 4,452.12. In the three weeks prior, the trend in volume does not have a clear direction, while the price trend is clearly down. The past 7 days saw Aurora's trading turnover — meaning the percentage of its available supply that was traded — come in at 0%. Its turnover rate is more than approximately 1.18% of the cryptocurrencies in our index, so it's well below average; this coin may be hard to get into and out of, and thus is suitable only for those interested in holding and exiting slowly and patiently.
Engagement Update
Aurora saw the number of wallets holding its coin go from 101,053 to 101,050 over the past week — a change of 0.00%. In terms of blockchain-recorded transactions made by these wallets since their inception, that number changed from 124,705 to 124,816, which translates to growth of 0.09% for the week. The combined engagement growth rate (growth rate in holders plus growth rate in transfers) of Aurora is thus at 0.09% which, relatively speaking, is ahead of 53.05% of the cryptocurrencies we're tracking. One interpretation of this may be that the coin's weekly growth in engagement is fairly mediocre.
Technology Development Status
Aurora currently has 13 public repos on GitHub, with the oldest one clocking in at 1.39 years young. Its last public update to any of its repositories was more than a week ago which is potentially concerning; more than a week without an update may suggest development is too slow. Aurora's public repositories collectively have a total of 100 watchers, which is below average relative to its peers; that's more than only 30 % of the 100 similar coins in our index. The coin has 0 outstanding issues in the backlog awaiting to be addressed by the core development team. In comparison to the number of watchers it has, though, its open issues count doesn't seem like something to worry about. To put the situation in context, Aurora has a better issue/watcher ratio on its GitHub than 88% of similar coins we're tracking.
Aurora News and Commentary
Over the past week, we found 2 links about Aurora that we found especially interesting. Where available, we included a snippet of the article that we thought might be interesting.
Alasca 2019 — Aurora Boreal & Stampede Trail – Filipe Barretto
Excerpt:
So many people live within unhappy circumstances and yet will not take the initiative to change their situation because they are conditioned to a life of security, conformity, and conservatism, all of which may appear to give one peace of mind, but in reality nothing is more damaging to the adventurous spirit within a man than a secure future….If you want to get more out of life, Ron, you must lose your inclination for monotonous security and adopt a helter-skelter style of life that will at first appear to you to be crazy.
Aurora Serverless 1O1 – Piyush Jalan
Article by SixJupiter