Price Action
Over the past week, Aurora saw its price go down by -1.05%. It is above its 20 day moving average by 1.19%, so it's fairly close. Aurora 's bullish momentum, if assessed by its distance from its 20 day moving average, is roughly middle-of-the-pack relative to the cryptos we're tracking. In terms of volatility, Aurora exhibits greater price volatility than approximately 47% of coins in our index, so it's volatilty is about what you'd expect for a cryptocurrency in our index. Based on volatility over the past three weeks, we can expect Aurora to experience a price range in US dollars between 0.006402453 and $0.008140947.
Where to trade Aurora (symbol: AOA): Gate, Yobit, Stex, Binance, DDEX, ETHfinex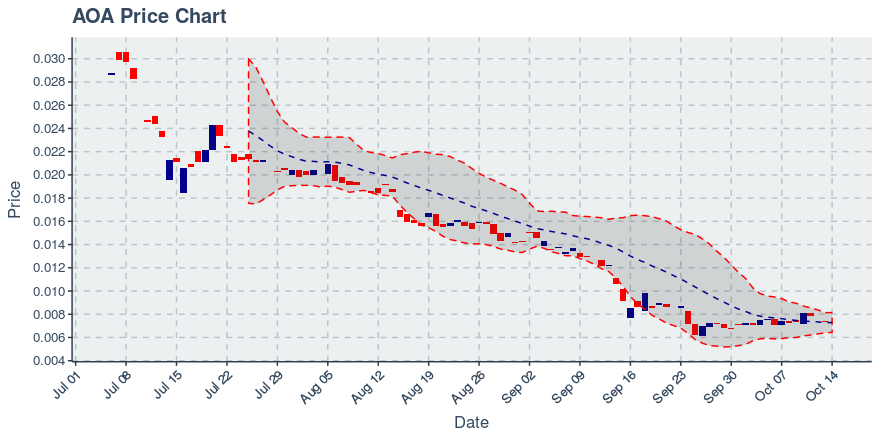 Volume Update
In the span of the preceding 7 days, Aurora's daily volume, in terms of its own unit of currency, has fluctuated between 11.5359 and 476,869. Over the past three weeks, the trend in volume,like the trend in price, is choppy and does not reveal a clear direction. Over the past week, Aurora saw its trading turnover — which we define as average daily trading volume divided by circulating supply — register at 0%. Its trading turnover percentage is higher than about 1.16% of the coins we're tracking, so it's well below average; this coin may be hard to get into and out of, and thus is suitable only for those interested in holding and exiting slowly and patiently.
Engagement Update
Over the past week, Aurora saw its holders go from 101,050 to 101,047, an increase of 0.00%. And in regards to cumulative transactions logged on the blockchain, they went from 124,816 to 125,058, which amounts to a change of 0.19%. The combined engagement growth rate (growth rate in holders plus growth rate in transfers) of Aurora is thus at 0.19% which, relatively speaking, is ahead of 60.59% of the cryptocurrencies we're tracking. This could indicate that the coin's engagement is growing at an above average rate.
Technology Development Status
Aurora currently has 13 public repositories on GitHub, with the oldest one now 1.41 years young. The last recorded update to its public repositories was within the past week which is not bad, as the coin is still being updated routinely. Aurora's public repos now have 101 which is below average relative to its peers; that's more than only 23 % of the 100 similar coins in our index. The coin has 0 outstanding issues in the backlog awaiting to be addressed by the core development team. In comparison to the number of watchers it has, though, its open issues count doesn't seem like something to worry about. To put the situation in context, Aurora has a better issue/watcher ratio on its GitHub than 92% of similar coins we're tracking.
Article by SixJupiter