How Did Bitcoin's Price Fare Yesterday?
Bitcoin's price at the moment is clocking in at $9,529.11, which means that since yesterday, it is up about 0.38%. The up day for Bitcoin yesterday was a reversal from the day before it. Price now stands at 7.77% below its 20 day moving average, and over the past two weeks, price has been in an a down trend. Given that its distance from its 20 day moving average of $10,332.24 is somewhat close, it may mean that a climb up to the 20 day moving average may be needed before momentum buyers come in. On the flip side, for those who prefer a rangebound view when trading, Bitcoin's trading range — based on its momentum and volatility over the past two weeks — is between $9,644.64 and $11,019.85 (in US dollars). The currency's market cap is now at $172.09 billion US dollars, and it's market dominance — the percent of the entire amount of capital invested in cryptocurrencies that belong to Bitcoin — is at 68.94%. As for the recent behavior, Bitcoin's dominance level hasn't exhibited a clear trend — but has fluctuated between 67.82% and 68.94%. A dominance level without a clear trend suggests that it may still be unclear as to whether or not we will live in a world with many viable coins, or whether Bitcoin will be the "one coin to rule them all".
Want to trade Bitcoin? Consider the following brokers: Gate, Yobit, Stex, Binance, DDEX, WCX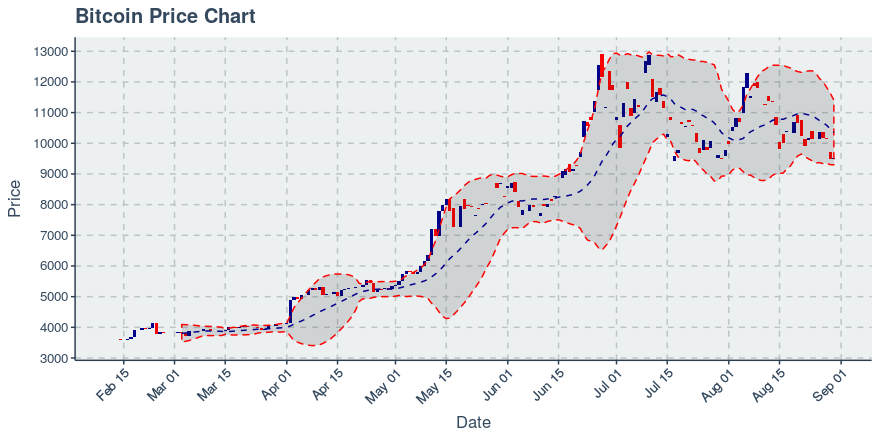 Daily Engagement and Hash Rate Metrics Update
349,200 transactions were recorded on the Bitcoin blockchain yesterday. The trend in daily transactions is not clear, though it should be noted that transactions have grown by about 3.4% over the past week. Bitcoin may end up functioning as a way to acquire goods or services if it does regularly increase the number of daily transactions occurring on its chain. Yesterday, Bitcoin's average fee per transaction came in at $0.93. The size of the typical transaction on Bitcoin's blockchain is down 11.79% in US dollars; meanwhile, the fee for sending transactions has been decreasing by 30.73% per week. When Bitcoin's transaction fee and average transaction value are both in decline, the cause is typically the result of the exchange rate against the US dollar. Regarding Bitcoin's hash rate, which serves as a measure of the network's computational power, it has managed to bounce around over the past 30 days. It has been rising daily by a rate of approximately 0.16%. Given the unclear trend in bitcoin mining, it may be that hash rate is getting more uncertain in a way; this could result in the chain's security being something to keep an eye on. This may not help Bitcoin draw more capital to its chain.
How Active are Bitcoin's Richest Wallets?
There are 562.37 million Bitcoin wallets with at least some positive amount of Bitcoin, but only 2.52% of those wallets have received or sent Bitcoin in the past 30 days. The number of monthly active users is in an uptrend, moving about 18,859.03 per day over the past two weeks. Over 90.51% of the outstanding Bitcoin is held by the top 1% of Bitcoin wallets.
Article by SixJupiter