Price Action
In the week prior, the price for Augur went up by 30.05%. It is above its 20 day moving average by 14.39%, so it's a bit of a ways off. Augur's bullish momentum, if assessed by its distance from its 20 day moving average, is well above average relative to its peers, and thus may be a sign the market for the coin is overheating and due to correct downwards. Now when considering volatility, Augur is more prone to sizable price moves than 76% of coins in our index, so traders can expect a bit more volatility than usual. Looking ahead, if the upcoming week mirrors the volatility of three past three weeks, the price range for Augur in US dollars is expected to be between $7.115675 and $11.50552.
Where to trade Augur (symbol: REP): Gate, Yobit, Stex, Binance, DDEX, ETHfinex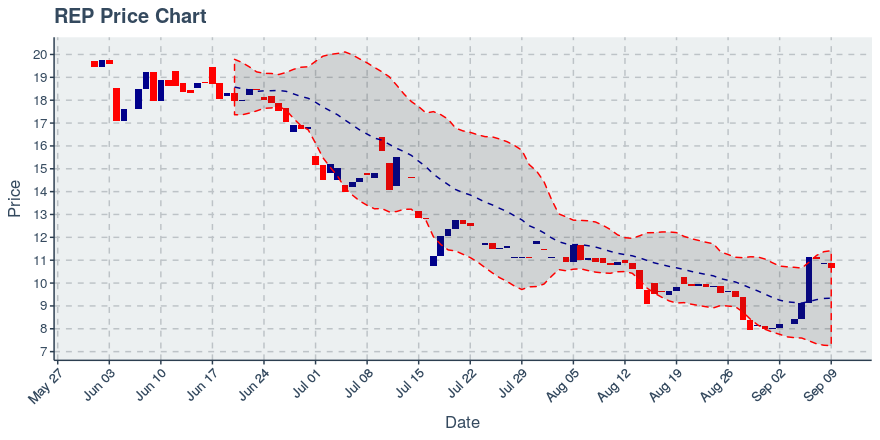 Volume Update
In the week prior, the daily volume for Augur has ranged between 222,346.1 and 2,997,906 currency units. Over the past three weeks, the trend in volume,like the trend in price, is choppy and does not reveal a clear direction. The past 7 days saw Augur's trading turnover — meaning the percentage of its available supply that was traded — come in at 8.14%. Its trading turnover percentage is higher than about 90.48% of the coins we're tracking, so it's far above average and thus a good coin for those interested in active trading or being able to get out of the market if they need to.
Engagement Update
Over the past week, Augur saw its holders go from 12,544 to 12,835, an increase of 2.32%. As for overall transactions, they increased from 175,789 to 181,057 — an increase of 3.00%. The combined engagement growth rate (growth rate in holders plus growth rate in transfers) of Augur is thus at 5.32% which, relatively speaking, is ahead of 92.40% of the cryptocurrencies we're tracking. This growth rate suggests the coin may be on track to getting and sustaining actual usage.
Technology Development Status
At the moment, Augur has 30 repositories open to the public on GitHub, with the oldest one now being 4.76 years young. The last recorded update to its public repositories was within the past day, which is pretty good, as it suggests the coin is still under active and rapid technical development. Augur's public repos now have 1621 which is pretty good, relatively speaking; specifically, that's more than 79 % of the top 100 coins we're looking at. The coin has 509 outstanding issues in the backlog awaiting to be addressed by the core development team. In comparison to the number of watchers it has, though, its open issues count is quite poor, and may potentially indicate some concern that the software is at risk of not being updated fast enough. Our hypothesis that the open issue/watcher ratio may be of some value in assessing the healthiness of a coin's software development process, and for Augur, this ratio was better than a mere 18 % of the similar coins we track in our index.
Augur News and Commentary
We found 2 links over the past week about Augur that we thought were especially worth sharing. If possible we included a brief excerpt from the article — be sure to click through for the entire piece.
The Majority Report – Will Sheehan
Snippet:
The Augur v2 transition in the new year brings with it a number of reporting improvements, namely an invalid outcome and continuous and pre-staked reporting rounds, all of which are great as long as users understand the _rules_, and hopefully the Majority Report can speed up that understanding….Traders, reporters, and market creators can all benefit from understanding a fickle group of REP holders.
Augur Weekly Report — September 4th – Augur
Article by SixJupiter