Price Action
Since last week, aelf's price went up by 3.58%. It is below its 20 day moving average by 2.78%, so it's fairly close. aelf's bullish momentum, based on its distance from its 20 day moving average, is roughly middle-of-the-pack relative to the cryptos we're tracking. Regarding volatility, aelf is more volatile than roughly 39% of coins in our index, so it's notably less volatile than the other cryptocurrencies we're monitoring. Looking ahead, if the upcoming week mirrors the volatility of three past three weeks, the price range for aelf in US dollars is expected to be between $0.07813458 and $0.09256442.
Where to trade aelf (symbol: ELF): Gate, Yobit, Stex, Binance, DDEX, ETHfinex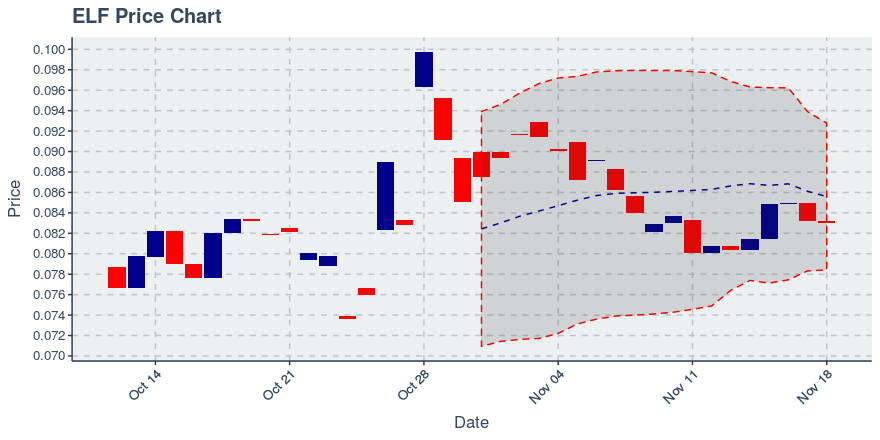 Volume Update
In the week prior, the daily volume for aelf has ranged between 279,356.5 and 6,748,296 currency units. Looking back over past 21 days, the trend in volume does not have a clear direction, while the price trend is clearly down. aelf experienced a turnover rate of about 0.4% over the past week, which means that is the percent of its available money supply that is traded daily. This turnover rate is higher than approximately 38.71% of the cryptocurrencies we monitor, which means it's below average, and so there may be some risk that traders/investors have difficulty in getting in and out of positions.
Engagement Update
The number of wallets holding aelf went from 49,755 to 49,598 in the past week, marking a change of -0.32%. And in regards to cumulative transactions logged on the blockchain, they went from 370,015 to 371,474, which amounts to a change of 0.39%. The combined engagement growth rate (growth rate in holders plus growth rate in transfers) of aelf is thus at 0.07% which, relatively speaking, is ahead of 58.89% of the cryptocurrencies we're tracking. This could indicate that the coin's weekly growth in engagement is fairly mediocre.
Technology Development Status
aelf currently has 30 public repositories on GitHub, with the oldest one now 2.2 years young. The last recorded update to its public repositories was within the past day, which is pretty good, as it suggests the coin is still under active and rapid technical development. aelf's public repos now have 694 which is pretty good, relatively speaking; specifically, that's more than 72 % of the top 100 coins we're looking at. The coin has 95 outstanding issues in the backlog awaiting to be addressed by the core development team. In comparison to the number of watchers it has, though, its open issues count is fairly mediocre. We consider the GitHub open issue/watcher ratio as a potential indicator of the healthiness of a coin's software development process, and for aelf we see that its issue/watcher ratio looks healthier than 41% of similar coins in our index.
aelf News and Commentary
The top theme being discussed about aelf in the past week is listed below. If available, we added an excerpt from the article to help give a taste of what it is about.
China Overtakes the US & the rest of the World becoming a Leader in Blockchain
Key Extract:
China is also one of the first countries to form a committee to develop a national standard for blockchain technology, which will create a solid framework for future development to occur….On the back of comments from China's General Secretary about the countries stance on Blockchain technology, there has been a flurry of media announcements around the world involving China….Further signifying the distinction between blockchain and cryptocurrency, of the 2747 patents published globally, 2127 include the term 'blockchain' in the title, while only 260 patents contain 'crypto', 'virtual currency' or 'digital currency'.
Article by SixJupiter