Price Action
Over the past week, 0x saw its price go up by 1.96%. It is above its 20 day moving average by 2.18%, so it's slightly away. 0x's bullish momentum, if assessed by its distance from its 20 day moving average, is roughly middle-of-the-pack relative to the cryptos we're tracking. In terms of volatility, 0x exhibits greater price volatility than approximately 13% of coins in our index, so this coin might not move much — something traders and investors will certainly want to keep in mind. Based on volatility over the past three weeks, we can expect 0x to experience a price range in US dollars between 0.2713452 and $0.3199648.
Where to trade 0x (symbol: ZRX): Gate, Yobit, Stex, Binance, DDEX, ETHfinex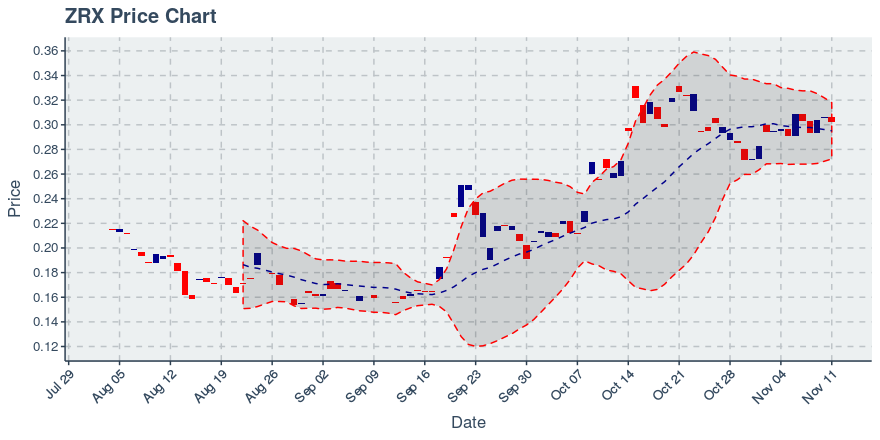 Volume Update
In the week prior, the daily volume for 0x has ranged between 1,040,989 and 12,403,584 currency units. Over the past three weeks, the trend in volume,like the trend in price, is choppy and does not reveal a clear direction. 0x experienced a turnover rate of about 0.78% over the past week, which means that is the percent of its available money supply that is traded daily. Its turnover rate is more than approximately 52.69% of the cryptocurrencies in our index, so it's middle-of-the-pack; investors/traders may thus wish to consider their liquidity requirements to make sure the coin matches their needs and their expected trading volume.
Engagement Update
0x saw the number of wallets holding its coin go from 115,209 to 116,042 over the past week — a change of 0.72%. As for overall transactions, they increased from 0 to 1,038,875 — an increase of Inf%. The combined engagement growth rate (growth rate in holders plus growth rate in transfers) of 0x is thus at Inf% which, relatively speaking, is ahead of 99.90% of the cryptocurrencies we're tracking. One interpretation of this may be that the coin may be on track to getting and sustaining actual usage.
Technology Development Status
0x currently has 30 public repos on GitHub, with the oldest one clocking in at 2.51 years young. Its most recent public update was within the past day, which is pretty good, as it suggests the coin is still under active and rapid technical development. 0x's public repositories collectively have a total of 2003 watchers, which is very impressive; that's more than 82 % of the top 100 coins we compare it to. The coin has 198 issues reported across its public repositories. Its number of watchers, when viewed against its open issues count, is fairly mediocre. We consider the GitHub open issue/watcher ratio as a potential indicator of the healthiness of a coin's software development process, and for 0x we see that its issue/watcher ratio looks healthier than 56% of similar coins in our index.
0x News and Commentary
Over the past week, we found 2 links about 0x that we found especially interesting. If available, we added an excerpt from the article to help give a taste of what it is about.
Snippet:
Beyond offering exchange infrastructure for relayers, 0x has expanded to provide deep liquidity (especially on popular stablecoins like DAI, USDT, and USDC) to DeFi projects wanting to swap tokens at the best prices.0x is now a versatile building block, bringing liquidity to the decentralized finance (DeFi) ecosystem.
Article by SixJupiter